HURRAY FOR THE OUTDOORS !!!
Did you know that gardening can have a monumental impact on a child, both cognitively and behaviorally? Children are continuously learning with whatever is in their surroundings. Nutrition awareness is an important element in today's focus on health and wellness. For a growing child, the very process of tending a garden reaps enormous benefits, even if it's simply growing peas, kale, or collard greens in a patch of the backyard. Children also learn where their veggies come from, the process of planting, nurturing, and harvesting crops. We have seen how children will often eat what they grow and prepare themselves, forming healthy eating habits. As to behavior, you will notice that children who are busy with outdoor activities require less discipline because they are so happy to explore and work. So here, we Alpha Montessori, a renowned montessori daycare & montessori elementary school in frisco & plano talk about square foot gardening with kids that you can easily start at your backyard, what can you plant in a square foot garden, square foot garden plans, and alternative gardening ideas. 
Importance and Benefits of Gardening with Children
Building Life Skills
Working in the garden can build important life skills including planning and finishing a task, perseverance, and patience, working in a community with family, using math and science understanding to select, measure, and plant seeds or seedlings. Also, studies done by the American School Health Association have shown that children who worked on gardening activities showed improved academic performance, attendance, and scored higher in science than those who did not. After all, growing a vegetable is a process of scientific investigation and inquiry. 
Just imagine all the physical activity involved in working a garden which is crucial for growth and development. 
Montessori  Foundation
In the Montessori classroom, toddlers and preschoolers are introduced to gardening while studying the parts of the plant puzzles and life cycles of plants and butterflies. During the adolescent years, this activity is taken to a much deeper level by classifying roots, leaves, flowers, and the fruit of plants. How excited these students are to grow their own organic gardens and harvest enough to run a business! They can either sell their produce or prepare meals for the school and families from their own gardens. A love for nature when introduced early in life forms a foundation of respect for the environment and healthy habits.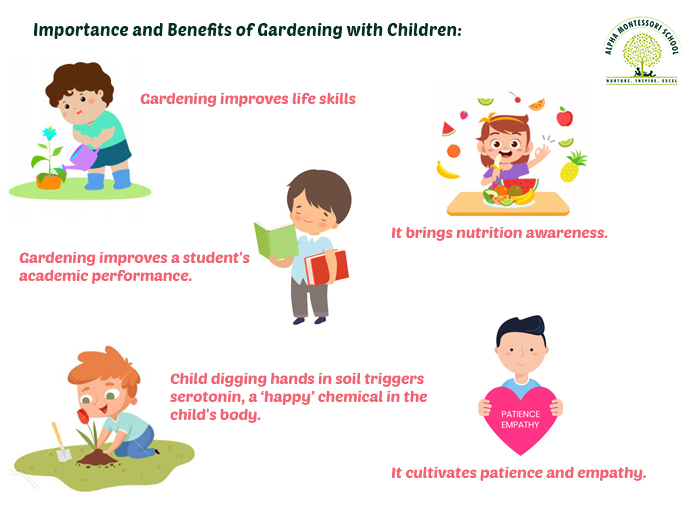 Sensory Gardening
Gardening also provides rich sensorial experiences as children play in nature. When a child digs his or her hands into the soil, the contact with certain bacteria triggers serotonin in our bodies, which are 'happy' chemicals. Give a toddler a bucket and spade and a pile of dirt and they are happy for a long time, shoveling and emptying. The senses of smell and touch are called on as children of all ages (even adults) handle soil of different types: sand, topsoil, clay, and mulch. I love the cedar mulch we put on top of our garden as a weed deterrent because the smell is wonderful! Children will learn that some plants grow best in sandy soil while others need rich dark soil with some added natural fertilizer or compost. 
Getting dirty is okay! A bucket of water or the water hose on hand to wash up after the work is done. Of course, children love any activity that involves water, so allow time to water the plants, their hands and legs, and even each other (if it's okay with mom and dad).
How Do We Encourage Gardening Among Children? Plant A Square Foot Garden!
What is Square Foot Gardening?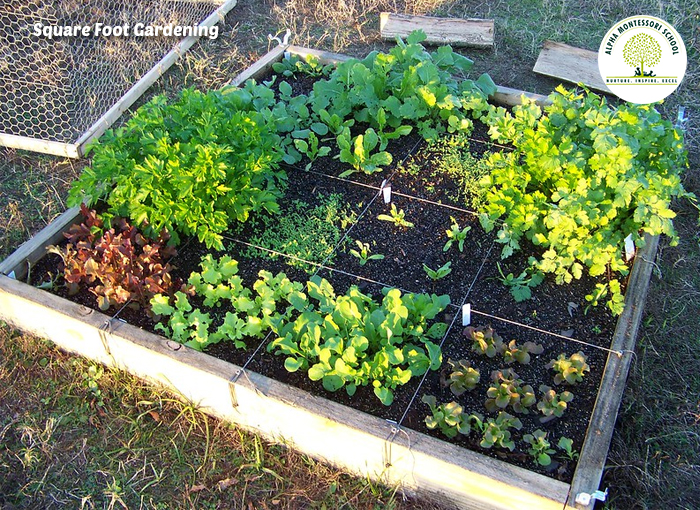 As the name suggests, square foot gardening refers to gardening and planting on a small, compact space, dividing it into small square sections with sides that measure 1 foot each. This is ideal for gardeners with limited space. Another advantage is that by optimizing space, you can do some intensive planting and harvest a high volume of vegetables!
The education application:  simple measurements carried out in a square foot garden also double as science and math activities!  
How to Square Foot Gardening?
We recommend these simple square foot garden planting guide (check out the guides here! ). Don't they look like Montessori materials? You can use these square guides to measure and plant seeds with specific dimensions — 4, 9, and 16 seeds per square foot. You can also use concrete materials with metal inset spacers to properly space the seeds. You can even work with colors and control maps — here are some great ideas to get you started!
Planning a Square Foot Garden  
Family-friendly in its approach, a square foot garden is low-maintenance because it needs no weeding and little watering. With its easy and simple demarcations, ownership can be shared with a group, whether as a family or as a school.
Steps to Plan a Simple Square Foot Garden:
Find a sunny spot in your yard or garden.

Build a garden box:  4 X 4 feet being the standard size.

Here is a simple way to build a garden box!

You can also buy ready-to-use raised beds from hardware stores. 

Even easier,  use pots about 12 inches in diameter, or a small plastic pool works too!
Plan the soil mix: at least 8 cubic feet for a 4-by-4-foot garden. The ideal mix is ⅓ peat moss, ⅓ vermiculite and ⅓ blended compost.  We highly recommend Mel Bartholomew's book,

Square Foot Gardening

.

Here is a free PDF copy!. Fill the box with soil, either purchased soil (Home Depot) or your own, using native soil and compost. Mix the soil well.
Make the grid for spacing the plants. For smaller children, we recommend using a 3 X 3-foot frame. We looked for the simplest way to build this and

we loved this resource!

 
What To Plant In A Square Foot Garden?
When it comes to deciding which plants to choose, we suggest food for your table, such as peas, carrots, beans, tomatoes, radishes, eggplants, or kale. For your little ones, can plant and taste the herbs – basil, mint, cilantro, rosemary, lavender, sage. (They especially like to pick a leaf of mint and chew on it, and its safe for putting in their mouth.). These are some of the best plants for square foot gardening. Children love planting food gardens and checking on the plants every day to see how the leaves develop flowers and then the fruit or vegetable. Squash is so much fun to watch grow because it gets big! Gardening gives children a sense of purpose and something to look forward to. It's part of learning to hope – looking forward to something good.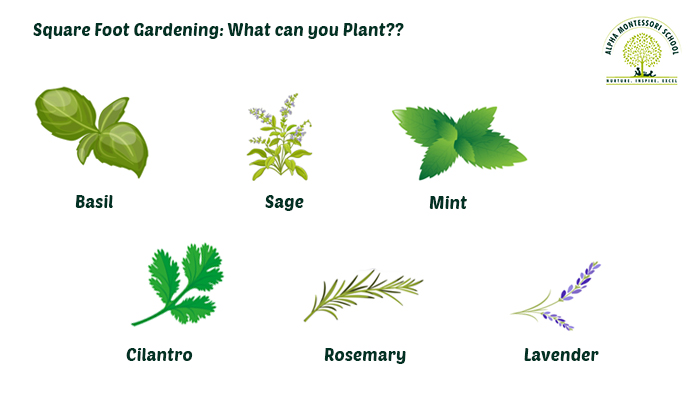 Plant flowers (marigolds are great) around the vegetables to protect them from insects The bees and butterflies are part of a garden and will give opportunities to show the children how they gather pollen or nectar to make honey or pollinate other plants.  A butterfly garden will bring wonders to your backyard!
Here is a free printable
Square Foot Garden Planner by plantandplate that will help you get planting!
Here is a small showcase of our children's gardening activities at Alpha Montessori School
Alternative Gardening Ideas:
Love Gardening? More Things To Explore!
Turn your house or school into a hub of sustainability.
Start a Compost Pile:
Composting is a great way to reduce the trash we send out of the house. Use your compost to grow your vegetables. Use a planter, add some soil, water it thoroughly to make it moist. Add organic matter such as vegetable and fruit peels (no meat, dairy, or fats). Mix it. Water it and add more soil as needed (to keep the bugs away). Start planting using your home-made compost! 
Make a Bird Feeder: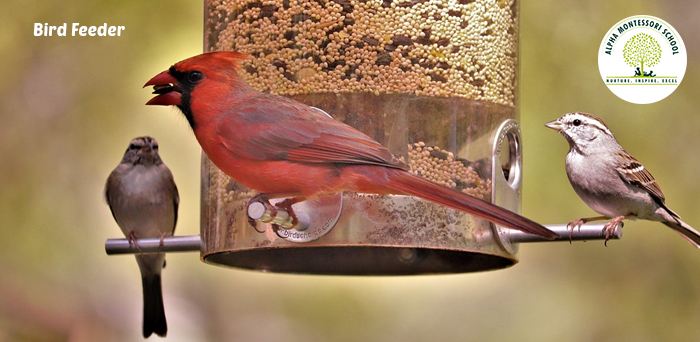 There are so many amazing DIY bird feeders that you can make from waste material. Take a toilet paper roll (without the paper). Put peanut butter on the roll. Roll it in grains to make the grains stick. Run twine through the roll and hang it up. You are done! Here are some more ideas!
Create Grassheads: 
These are adorable little forms that are covered with seeds that grow out like hair. This is a great way to make gardening and planting fun and varied. You can use recycled material from your home and even give your grass head guy or gal a haircut when the grasses grow too high! Here are some ideas.
Gardening has enormous benefits for our children – young and old. They develop fine and gross motor skills, engage in rich sensorial learning, exercise their bodies, and bask in the sun. As they engage with nature and the world around them, WHAT'S NOT TO LOVE?
I hope this guide on Square Foot Gardening helps you start Gardening with your Kids. Comment below for any questions and I will try answering them.
Also, let us know how your kids have fun with gardening and their learning in the comments below