If you are the parent of a toddler, you undoubtedly know that language and literacy skills are crucial for his or her overall development. Reading is a wonderful experience but also an equally important skill.  A child must possess the skill of   language to express and communicate to others around them.  There are ways in which you as a parent can build this vital skill. For instance, when you open a wordless book and ask your toddler about what's on the page, you are building their expressive language skills.
It doesn't stop there. Expressive language isn't only about labeling or pointing things out but describing and expressing thoughts on what is on that page.  
Ever heard of the terrible twos? It is common for children who are 2 and at times a little older to experience frustration because they are not able to communicate their needs and feelings.
What are expressive language skills? 
Expressive language for toddlers include skills that toddlers need to communicate and express their thoughts, needs and emotions. These skills extend to labeling and naming objects, gestures, construct sentences, answer when asked a question, and so much more. A child has many thoughts going through their mind. Expressive language skills help the child to form these thoughts, choose the right words, use the correct grammar combinations, and utilize gestures to externalize and communicate these thoughts.  
Five Stages of language development:
Individual toddlers learn at different times but this happens within a range.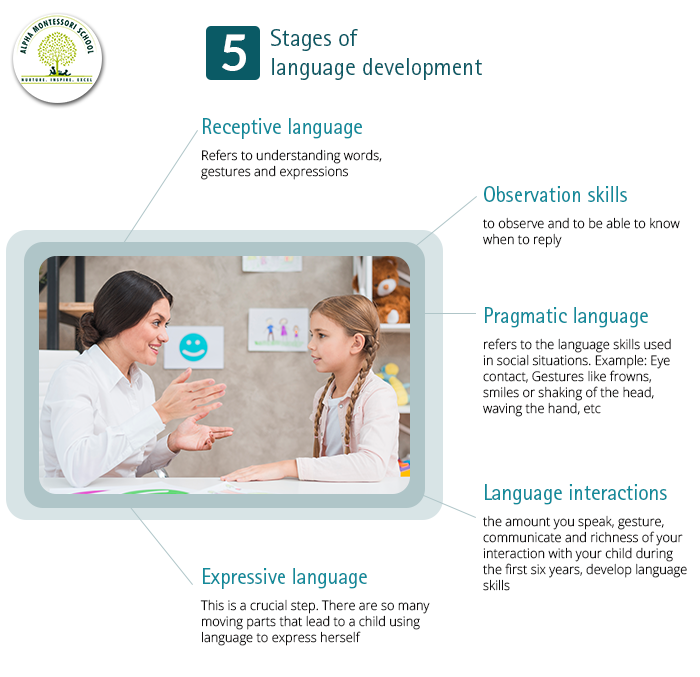 1. Receptive language: Babies and toddlers first develop receptive language. This refers to understanding words, gestures and expressions. 
2. Observation skills: A child needs observation skills to observe what a person is saying and to be able to know when to reply. 
3. Pragmatic language: Pragmatic skills also matter a great deal. Pragmatic skills refer to the language skills used in social situations. Eye contact, for instance, is an important way to communicate and focus. Gestures like frowns, smiles or shaking of the head, waving the hand when denoting 'goodbye,' or pointing are all pragmatic language skills and are important pre-language skills.

4. The richness of language interactions: When you think about it, the amount you speak, gesture, communicate and interact with your child during the first six years, and the richness of your interactions go a long way in developing their language skills.
 
5. Expressive language for toddlers: Expressive language is the crucial next step. Is the child able to express himself? There are so many moving parts that lead to a child using language to express herself. 
Why is Expressive Language for Toddlers so important?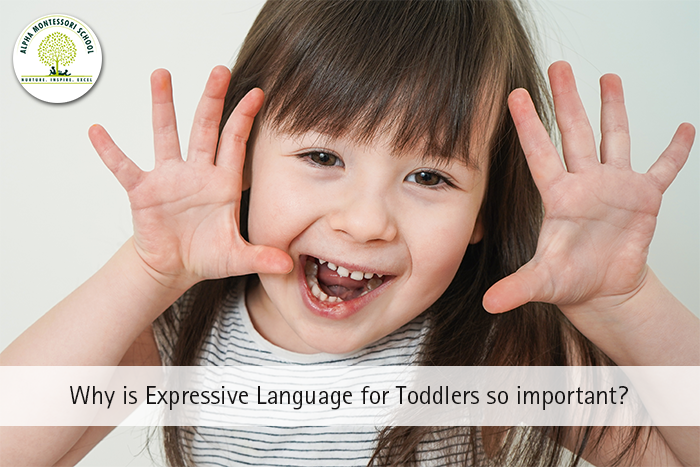 A lot of a toddler's tantrums, frustrations and anxieties come from them not being able to communicate their needs and worries. When your child is on the floor crying and rolling on the carpet, you assume that she is just in a bad mood. What actually got her in that bad mood? Is she hungry or sleepy? Many children are capable of expressive language skills but as parents and caregivers we need to explicitly teach and model these skills. Do they identify emotions like anger, sadness, hunger or happiness? Are they able to talk about why they are sad? Socio-emotional skills go hand-in-hand with expressive language.
There is another important reason why expressive language skills are important. These skills mark an important developmental milestone in a child's life. Of course, there are ages and stages for milestones. Some children achieve milestones early, some may see some delay, but as long as children accomplish milestones with fair regularity, they are on track. 

In the first 6 months, babies attain many important communication skills. When your baby sees your face, he smiles. He repeats sounds. She cries differently for different needs and concerns. Some babies engage in baby talk, with sounds like 'agoo.' They gurgle and make two-lip sounds like 'p' and 'b.'. They will try to talk, will use gestures and expressions. After 7 months, your baby includes more sounds, particularly consonants, in her range of sounds. She uses more short vowels and long vowels. They start speaking their first words like 'mama' and 'dada.' As your child grows up into a toddler, he/she is accumulating so many more words and he/she can even combine words.  
When children turn 2, they really expand their vocabulary. It is such an amazing thing to witness! By the time they outgrow the toddler phase, they can form short and fluent sentences. 
What toddlers should be able to do at their age?
By the first year, most children will be able to:
Communicate using action or sounds

Say their first word

Try to repeat your sounds

Wave goodbye and relate to the word 'bye'

Look for the source of a sound

Look at the object you are pointing at

Point to items they want or to signal their interest

Respond to their names
By the second year, most children will be able to:
Say many more words and have a vocabulary of around 50 words  

Understand simple instructions such as getting a ball when asked to or getting things from another room

Do a lot of imaginative play, using gestures, sounds and words 

Ask for a favorite food by name, such as 'cookie' or 'milk.'

Make animal sounds and even uses pronouns such as 'mine' or 'you.'

Start to combine words, such as 'more milk' or 'no banana.'

By the third year, most children will be able to:
Understand words that denote a sense of place, such as 'there,' 'on' or 'outside.'

Use descriptive words like 'happy' or 'sad.'

Construct sentences with 3 words




Use plurals, pronouns and sound variations when asking questions, such as, "where is my

ball?"
Expressive language examples include a felicity for words and a capacity to experiment with words, even in small ways. Children attain language milestones at their own pace but to make sure they are on the right track, do check out the CDC's list of important milestones.
Expressive language delays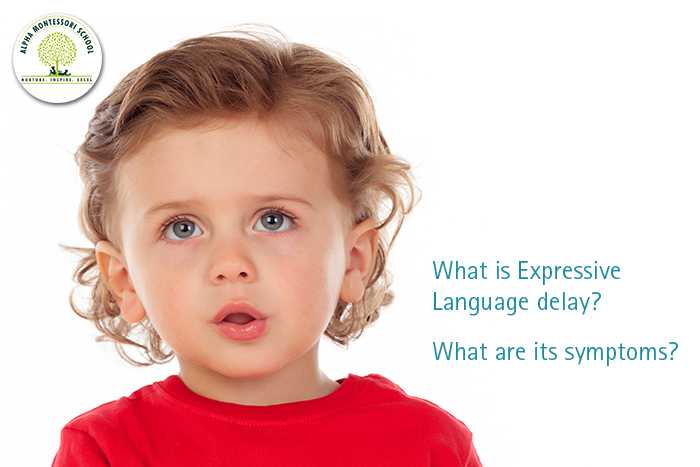 Language and communication skills are very important milestones in early childhood. They take the child on an incredible journey in learning new skills and interacting with different people. There are instances when a child may not be displaying signs of expressive language development during their toddler years. Most of them may catch up during their preschool years. Ever heard the term late bloomers? However, there are many children in this group who may go on to display persistent delays in expressive language skills. Parents should err on the side of caution and check with their children's teachers or Montessori adults to find out more about where their child stands developmentally.

In the case of significant expressive language delays in toddlers, early intervention can go a long way in helping children accomplish some of those delayed milestones. Early intervention includes various play-based therapies that help children with these skills.
Expressive language delays can signal many underlying challenges, right from speech delay to learning difficulties. A child may have problems in expressing himself because he cannot sequence information in the right order in his mind. There could be challenges in phonology and some children have problems producing the right sounds. There are different kinds of expressive language delays in toddlers.

Because it is so important to detect any issues in the early stages, it is important to get in touch with a developmental specialist when children are still in the early stages of development, between 2 to 5 years old, to determine underlying causes because it is so important to detect any issues in the early stages, between 2 to 5. In case there are expressive language delays, a certified speech pathologist will work with your child and remove her obstacles to picking these skills up. Instead of letting the child pick up this skill on her own, the speech pathologist will work on bridging the gaps and fixing the problem.  
Symptoms of expressive language disorders in toddlers:
Common signs of expressive language disorder in toddlers include:

Using words like 'um' and 'uh' because the child is mentally searching for words to describe or explain something

Difficulty putting words together and in the right order in a sentence

Leaving words out of sentences, saying words in the wrong order and mixing up word tense

Difficulty in having conversations 

Finding it hard to learn words and name them





Having trouble with tenses, example "I ate a banana tomorrow."  
Difficulty in remembering what things are called
If you suspect an expressive language disorder, do talk to your child's teacher. Apart from early intervention, there are various ways in which you can help your child acquire expressive language skills.
Activities to Improve Expressive Language Skills:
There are many ways to help children acquire expressive language skills. It takes many moving parts to make this happen. For one, your toddler needs to name the objects she sees around her. She needs to know how to use words the right way and how to bring in gestures and actions. She needs active listening skills too. Above all, the patience of the parents and the tenacity of the teacher really help in taking things forward.

For instance, you need to give your child more opportunities to formulate their thoughts and to find the words to describe them. Give them more opportunities to complete their sentences and to reply to your questions. Encourage them and appreciate small successes.

Here are some great activities to strengthen a child's expressive language skills.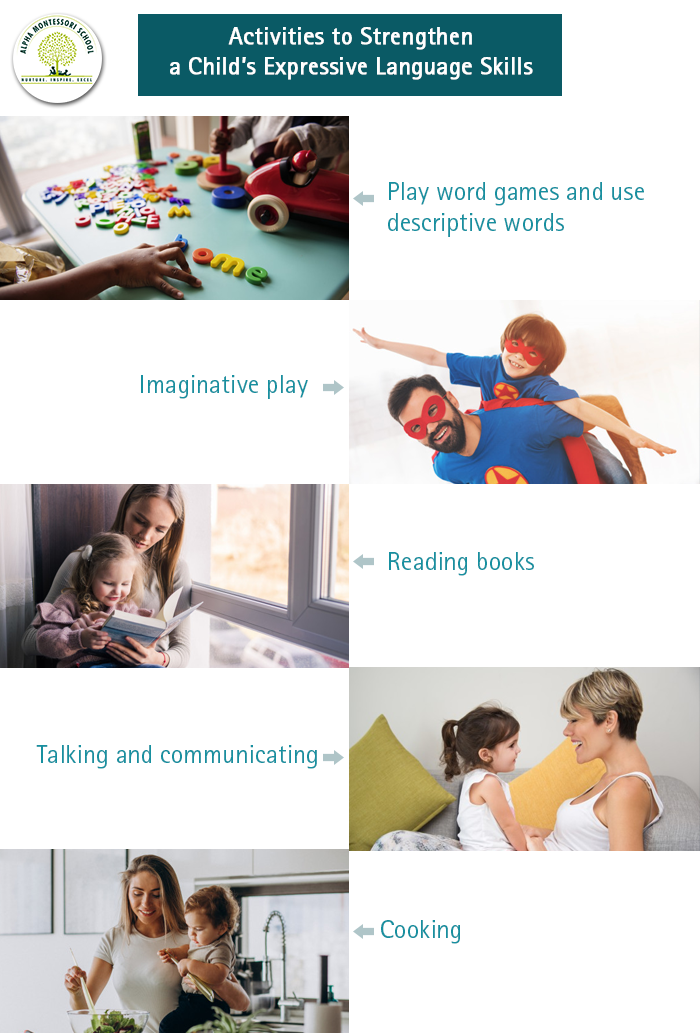 Play word games and use descriptive words:
The way you use words can really have an impact on a child's expressive language skills. Use a lot of descriptive words, with many adjectives. Play with bubbles, for instance, to illustrate how you and your child can take turns. You can then say, "my turn!" or "your turn!" 
Naming games are also great ways to encourage these skills. Play games like I Spy or even simple naming games to get them to name the things around them, with your help of course!
Imaginative play:
Imaginative play is a wonderful, wonderful tool and really builds on so many skills, including expressive language. Playing with your child's dolls is a great idea but go one step further and use play dough! Make different scenes and scenarios. Have your child cook up the language to describe these scenes and stories. The beauty of imaginative play is that your child will exercise so many other skills apart from expressive language skills, including cognitive skills, socio-emotional skills and so much more. You can also use toy trains or battery-operated animals and toys to teach them 'up' and 'down' or 'in' and 'out.'
Reading books:
Books are always great way to improve language skills. We highly recommend wordless books, which are great ways to get the child talking and expressing. Books that have many prepositions and pronouns, such as books by P.D. Eastman such as Go, Dog. Go! and Up, Down, and Around by Katherine Ayres are some fabulous picks. 
Talking and communicating:
For all children, a language-rich environment is a wonderful way to hone language skills. Always ask your child to ask for something before giving it to them, especially at the dinner table. Have your child tell you a story after you tell it to them. 
Cooking:
Cooking is a wonderful way to build expressive language skills because you are sequencing, you are narrating the steps and you get a chance to use a lot of words. You can cook and ask your child to narrate what you are cooking and how you are doing it.  
List of Montessori Works in the Toddler Environment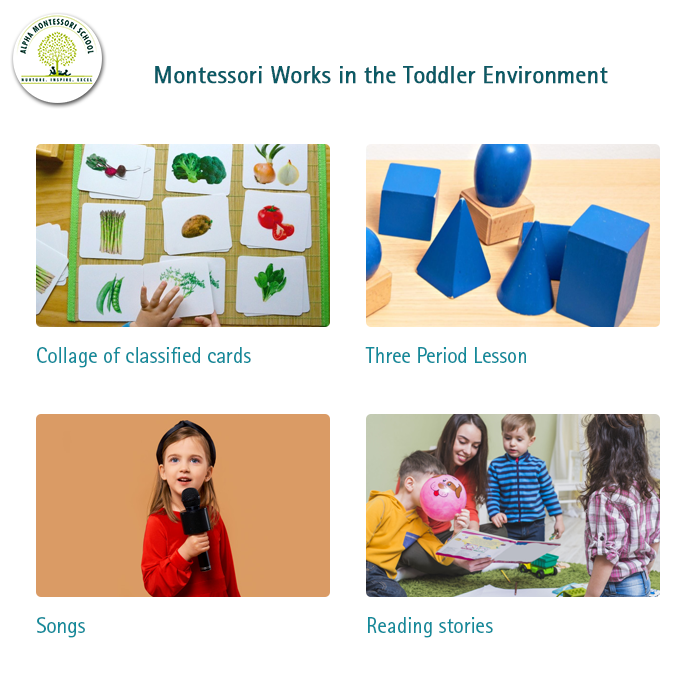 From the first day your child enters a Montessori classroom, language lessons are immediately given to them. The trained Montessori adult in the classroom will teach the children the language for the objects in their environment, the children will not only gain vocabulary but be helped in the orientation of their new environment as well. The child may or may not already know the vocabulary, but it is important to give the child a base in language.
Classified Cards: For this lesson, the trained Montessori adult should begin with very broad classifications. Later, they can move on to sub-classifications. It is important to offer the child with words that he has already had some familiarity with, remembering to work from simple to more complicated groups of vocabulary. 
The Three Period Lesson: This is

 a teaching technique used to give formal vocabulary lessons. Language is given after experience of that which is to be named. The three periods support the three stages of learning.

Songs:  Singing is an important activity, songs can be taught as poems, which are then put to music. Children seem to enjoy nursery rhymes.
Reading stories: 

This allows the children to see your gestures and facial movements, which then help each child to understand the meaning of the story.

Summing up:
These activities help all toddlers but if you find that your child exhibits signs of delayed expressive language, then do seek the guidance of your child's  trained Montessori adult, as they make careful observations of children daily.  
Talking and communicating with our children is one of the biggest joys of life. Children who have not yet developed their expressive language skills can still understand, absorb and learn from their environment. They are observing us and drawing from the world's infinite material. As parents and caregivers, we need to constantly encourage their curiosity!  
Building expressive language skills can help children in so many aspects of their lives. They will be able to form friendships, interact with others socially, and will do well in school. They will have confidence in everything they try to accomplish, beyond just reading and writing skills. Enjoy working with your children on these skills and discovering a world of imagination and interaction together!